Costs and Benefits
Combining mitigation with reducing the financing gap for adaptation to climate change through a cap-and-charge scheme is effective and efficient. It can be shown through a value innovation canvas.

Value Innovation of IMERS compared with Cap & Trade for Shipping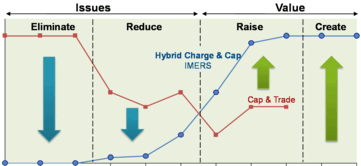 IMERS is an efficient alternative to emission trading and delivers:

Maximum efficiency with minimum rate

Near-term emission reductions, AND stimulation of longer term technology innovation & transfer

AND reduces the adaptation financing gap by $4bn/pa WITHOUT constraining economic growth!

The costs are
as low as $1 for $1,000
of imported goods, the emissions are halved and developing countries will benefit from the $4bn financing contribution for adaptation to climate change.
The details are provided in the Value Innovation, Costs, and Benefits pages below.