About
IMERS is a non-profit initiative established to develop and accelerate the implementation of a technically sound and politically acceptable global scheme to (1) raise financing to tackle climate change and (2) reduce shipping emissions, whilst recognizing the UNFCCC principle of common but differentiated responsibilities.
The aim is to incorporate the scheme, preferably implemented as a levy on shipping emissions/fuel fuel with a rebate mechanism for developing countries, into the post-2012 climate agreement. IMERS will achieve this by: (1) undertaking policy analysis and facilitation of submissions to the multilateral negotiations on the proposed scheme, (2) developing a scheme demonstrator to illustrate the viability and operation of the proposed scheme, (3) mobilizing stakeholders, principally governments of both developed and developing countries, around the single supra-national scheme.
International Maritime Emission Reduction Scheme
This is proposed as a global, supra-national scheme
with an ambitious goal to halve shipping emissions over long-term.
IMERS in 30 words: A technically sound and politically acceptable levy on fuel for international shipping, which differentiates responsibilities between developed and developing countries. Applied worldwide, collected centrally, bypassing national coffers, raising $10bn+ annually for climate action.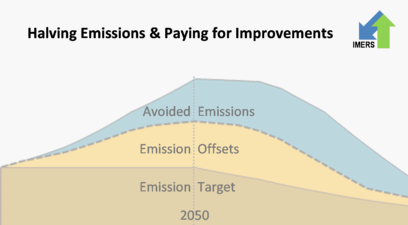 In other words, the proposal is to create a lowest cost scheme to reduce greenhouse gas (GHG) emissions from international maritime transport through a hybrid market mechanism combining:


Near-term emission mitigation, including through forestry arrangements (REDD+)


Technology fund focused on bringing forward technology transformations, such as hydrogen transport


Funding for adaptation to climate change in developing countries.

A major redesign took place in 2010 through the implementation of a rebate mechanism submitted to the IMO. This information is not fully reflected here yet.