Winner of the Sustainable Shipping Award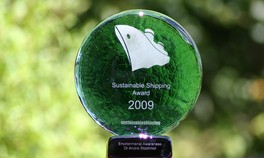 The founder of IMERS is the winner of the Environmental Awareness in Shipping Award, Sustainable Shipping Awards, 2009. The award is for: A major contribution to raising awareness on how shipping can improve it's environmental record.
Andre received the award at an award ceremony in London on July 15. Over 150 industry experts from across the globe gathered to celebrate those companies and individuals who have made a significant difference in helping to reduce the carbon footprint of shipping.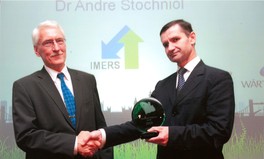 The Award for Environmental Awareness in Shipping has been sponsored by Wartsila. It was presented to Andre by its General Manager, Mr Torbjorn Henriksson.

Award Entry
In 2006, Dr Andre Stochniol decided to dedicate his 28 years of business and academic expertise to tackling climate change. During 2007 and 2008 he designed and secured significant multi-lateral support for an innovative International Maritime Emission Reduction Scheme (IMERS). He self-funded this non-profit initiative that aims to obtain agreement for a technically sound and politically acceptable scheme to (1) reduce emissions from international maritime transport, and (2) raise additional financing for climate change action, aimed at helping the world's poor deal with the consequences of global warming.
He has worked tirelessly with 30 national delegations on shaping the IMERS proposal, half of which were from developing countries. The scheme is based on a market-driven levy on emissions from international maritime transport. It will apply initially to ships carrying goods to developed countries. IMERS is recommended in a variety of reports, including by the Global Leadership for Climate Action, a task force comprising former heads of state and leaders from more than 20 countries.
His activities galvanized discussions on market-based schemes, and significantly increased awareness that emission reductions in shipping are not only achievable but affordable, good for environment and good for business. At the same time they increased awareness of the importance of directing funds from a shipping emission scheme to climate change adaptation – not only mitigation. It was his idea to direct the entire funding raised – estimated at $10 billion annually – to adaptation and mitigation of climate change, and technology and innovation in the maritime sector. His calculations have also demonstrated that the impact on end customers of such a scheme will be minute, as little as a 0.1% increase in import prices, and thereby be readily acceptable.
Dr Stochniol is committed to the continued development of IMERS. The ultimate measure of his success would be if the scheme became operational in 2013.
--
The winners, decided by an impressive group of internationally respected industry figures, were as follows: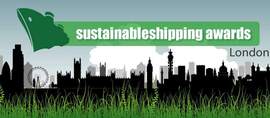 Ocean Environmental Protection - Alfa Laval and Wallenius Water
Clean Air - Port of Long Beach and Los Angeles
Environmental Awareness in Shipping - Dr Andre Stochniol
Environmental Technology of the Year - Skysails
Sustainable Shipping Operator of the Year - A.P. Moller-Maersk
Green Shipping Initiative of the Year - Green Ship of the Future