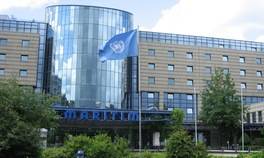 Our differentiated levy to finance climate change action was supported at the side event on day 1 of the Bonn Climate Change Talks - June 2009, entitled: Equitable Financing & Reducing Emissions from International Transport. Event flyer

| Fact Sheet

| Presentation

.
Following opposition of major developing countries to uniform levies, we suggest to modify paragraph 173d of the LCA negotiating text

to:
A market-driven levy on emissions from international maritime transport applicable to ships carrying goods to developed countries (effectively).
Event flyer . Synopsis and objective:

The side event was dedicated to technically sound and politically acceptable levies on emissions from international aviation and maritime transport. Applied worldwide, collected centrally, they would raise $10bn+ annually for climate adaptation, REDD+, and technology.

Galvanize the negotiations on levies for international transport.

Fact Sheet . The Problem and The Solution:

There are two problems:

Current mechanisms to finance climate change adaptation in developing countries are inadequate, both in scale and design.
International shipping CO2 emissions are outside of the Kyoto Protocol, yet they are: significant and growing, double aviation emissions, global and complex.

As the solution, a global market-based instrument for shipping is proposed. This can catalyze global cooperation and solve both these problems.
Presentation is now available

(0.4 MB).
To read on progress on the Bonn talks visit
IISD Reporting Services
.
Why the event was Important?
Levies are proposed for negotiations within the AWG-LCA (paragraphs 36, and 173d)

Shipping levy, which recognizes national circumstances, is viable

As a result a draft negotiation text has been created
Presentation and Debate were Focused on
How to pragmatically recognize national circumstances within a global scheme

How to distribute financing from international levies

International Maritime Emission Reduction Scheme

How to galvanize the negotiations on equitable levies for international transport
Speaker and Panellists
Andre Stochniol, IMERS (speaker)

Henry Derwent, IETA

Jake Schmidt, NRDC, USA